Alex Bergal & Sons - Duluth
Kosher Meat, Deli & Groceries


Alex Bergal & Sons was a Kosher meat, delicatessan and grocery store. It was located in Duluth a 421 East Fourth Street.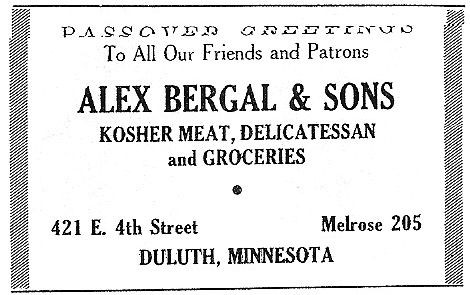 This ad was reprinted from past issues of ther Jewish Fellowship News in 1996


The Alex Bergal from the store was Alexander Bergal (1892-1973) listed in our family-tree database. He was a son of Gitel Prussmn Bergal (1869-1947) and Moishe Moses Morris Bergal (1867-1940). Gitel and Moishe were living in Winnipeg at the times of their deaths. Moishe's father was Harry Bergal.
Alex was married to Elizabeth Fishman Bergal (1894-1958) and they had a daughter and two sons. A two-generation descendents list for Elizabeth and Alex is shown below. Their sons Phillip Bergal (1918-2002) and Harry Bergal (1920-2010) were the "sons" in the business. Their obits are shown below the descendents list.


source: Jack's Family Tree Database



obit for Phillip Bergal (1918-2002)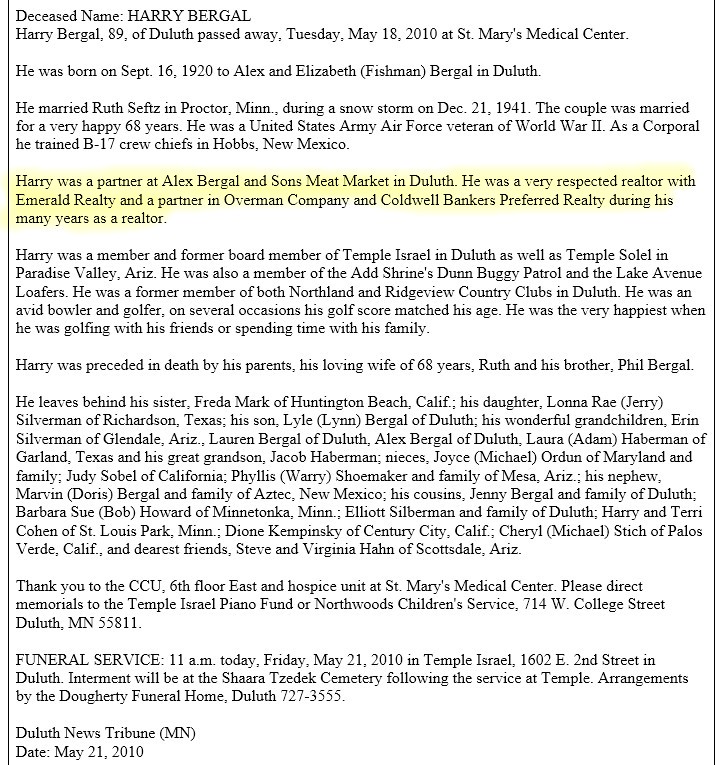 obit for Harry Bergal (1920-2010)



| | | |
| --- | --- | --- |
| Created by: Allan@Garon.us | Feedback always welcome! | Page created May 2022 |