Isaac Ira Leigh Cook
Radio Performer, Songwriter and Actor
A Notable Jewish Professional from the Greater Duluth-Superior Region


Isaac Ira Leigh Cook (1916-2007) was born in Duluth, a son of Lillian Cohen and Barnet J Cook. He was married to Virginia Mary Jackson and they had two children, Susan Cook Pierce and Terry Leigh Cook (1948-2007). More information about Ira and his ancestors is available on the webpage for Virginia Mary Jackson and Isaac Ira Leigh Cook in the password protected area of this website.
Ira Cook was a composer, actor and Hollywood disc jockey. He was educated at Stanford University. His Los Angeles broadcasting career spanned 26 years, sixteen of which were at KMPC. He served in the US Army during World War II, and broadcast over the Armed Forces Radio Service from 1961. He joined ASCAP in 1958, and collaborated musically with Mort Greene and Ray Gilbert. His popular-song compositions include "Pony Tail," "Sunday Barbeque," and "Your Theme."
A summary of information about Ira is shown in the Zenithcity.com clipping below. There is more on the full Zenithcity.com page at http://zenithcity.com/thisday/august-17-1916-disc-jockey-songwriter-and-actor-ira-cook-born-in-duluth/.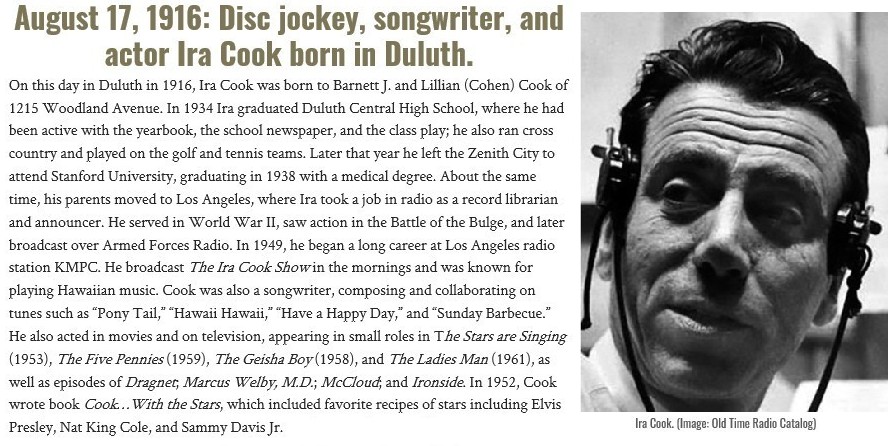 source: ZenityCity.com


Click here for information on how to request access to the password protected pages of this website.






| | | |
| --- | --- | --- |
| Created by: Allan@Garon.us | Feedback always welcome! | Page created Aug 2021 |