Harry Silk Billiard Parlor - Duluth


The Harry Silk Billiard Parlor was located in Duluth at 319 West Superior Street according to the 1917 advertisement shown below. Harry Silk was the propriator.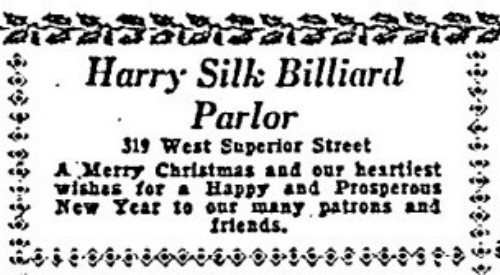 1917 advertisement


Harry Silk (1885-1966) was a son of Anna D Hallock and Abraham David Silk. Harry was born in Minnesota and his parents, Anna nad Abraham both passed away in Duluth, in 1933 and 1924, respectively. Harry was married to Rachel Rae Holzberg (1886-1960) and they had three children, all born in St. Louis County. A two-generation descendents list for Rachel and Harry is shown below.


source: Jack's Family Tree Database



| | | |
| --- | --- | --- |
| Created by: Allan@Garon.us | Feedback always welcome! | Page created May 2022 |