Diane Sher Lutovich
Poet, Author and Writing Instructor
A Notable Jewish Professional from the Greater Duluth-Superior Region


Diane Sher Lutovich (1937-2004) was a poet, an author and a writing instructor. She was a founding member of Sixteen Rivers Press, a publishing collective based in Northern California.
Diane was born in Hibbing, Minnesota, to Florence Rose Shuman and Israel Robert Sher. She was married to Gerald Lutovich (1931-2016) from 1965 to 1975, and they had one daughter, Natasha Lutovich Terk. More information about Diane and her family is included in the password protected area of this website on the page for Diane Elaine Sher and Gerald Lutovich and on her parents page, Florence Rose Shuman and Israel Izzy Robert Sher.
A summary of information about Diane is shown in the Wikipedia clipping below. There is more on the full Wikipedia page at https://en.wikipedia.org/wiki/Diane_Sher_Lutovich.


source: Wikipedia, the free encyclopedia


Names of Diane's books and images of them are shown below.





source: SixteenRivers.org



Diane's Obituaries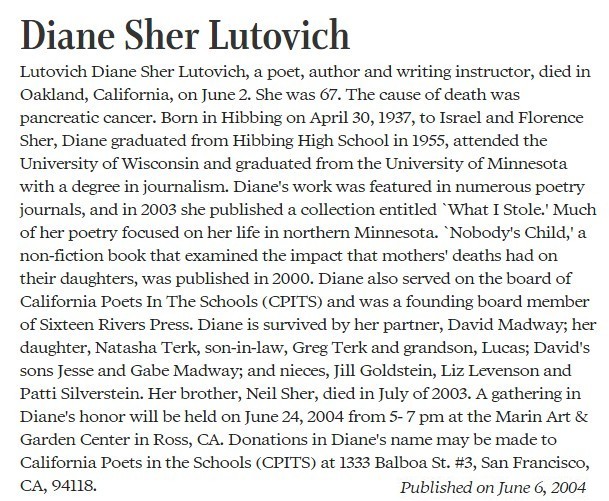 more obits - - longer obit


Click here for information on how to request access to the password protected pages of this website.







| | | |
| --- | --- | --- |
| Created by: Allan@Garon.us | Feedback always welcome! | Page created June 2021 |