Progress Club - Duluth


The Progress club was made up of twelve Jewish young men prominent in their local social element. It was formed in 1902. N. Gidding and I. Goldberg are newly admitted members and not in the photo below. Charitable enterprises, raising funds for erection of buildings for religious worship. Events have taken place at the Spalding, The Armory hall, and Oatka beach pavillion.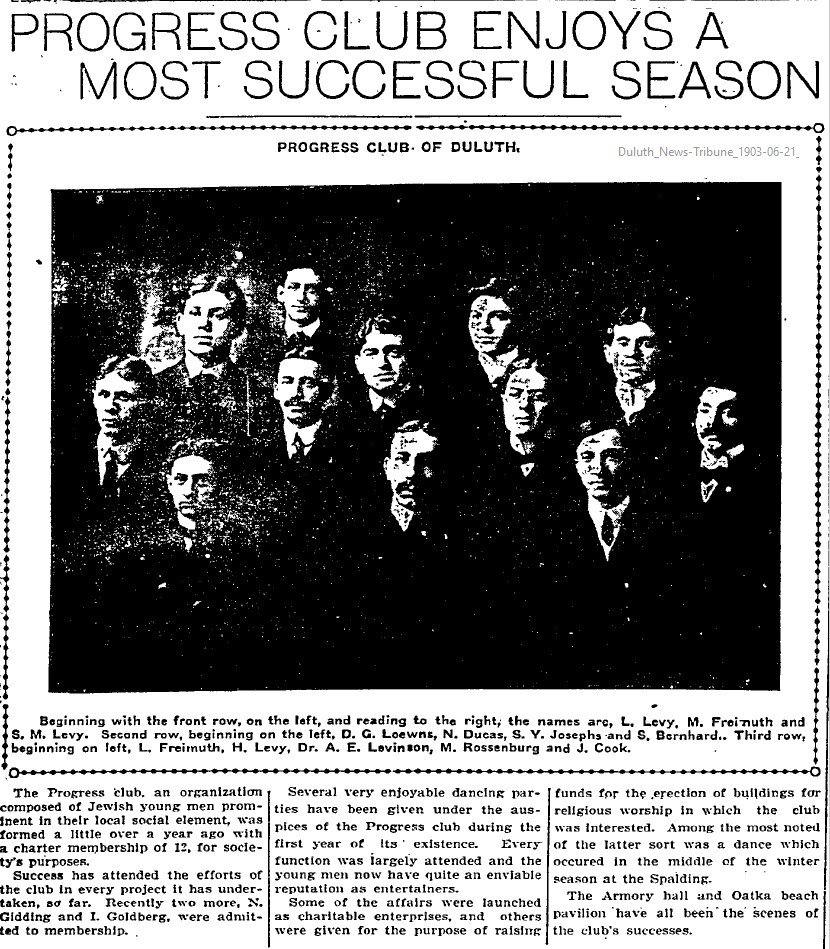 Duluth News Tribune - June 21, 1903


Notes regarding some of the men mentioned in the article:

M. Freimuth and L. Freimuth - Morris and Louis - first two sons of Pauline Sattler and Ignatz Freimuth

D. G. Loewns became a buyer for the Freimuth store according to a 1919 newspaper article.

Duluth News Tribune - June 21, 1903 N. Ducas becomes a directory of the Duluth National Bank in 1888.

Dr. A. E. Levinson died at an early age from appendicitis June 20, 1903, shortly after this photo was taken. The photo photo was published June 21, 1903 and the obituary was June 20, 1903! That is why we do not have any more information on him. - - obit news article

We already have many news articles for J. Cook, S. Y. Josephs.

Nathaniel (Nat) Gidding in charge of a new children's department in 1897, a brother of Mr. Gidding of Silberstein and Bondy.

M. Rossenburg might be M. Rosenberger or M. Rossenberg. Perhaps the family started out with this spelling from Europe and it evolved into something else. I do not know what he did at this point, but we do have him listed in newspaper articles with different spellings of his surname.

S. Bernard. See attached photo of him from 1902. Cloak and Suit store. From Colorado. Moved to Duluth. In 1904 he became the president of Brith Abraham, Zenith City Lodge 353. - - picture and info

I am not sure who L. Levy, H. Levy and S. M. Levy are. Maybe they are brothers and involved in operating a liquor store.

Researched by Karen Alpert Entous.
1905-3-21 Duluth News Tribune - - 1905 Betrothed Couple Guests At Banquet. Progress club, Spalding, Lionel Traubman of New York, fiancÚ of Miss Irene Silberstein, Miss Rose Gidding to Max Stern of Chicago, Estelle Levy and Louis Zalk, Henrietta Cook and M. Goodman, Lillian Abrahanson and Jacob Hirsch.
| | | |
| --- | --- | --- |
| Created by: Allan@Garon.us | Feedback always welcome! | Page created Sep 2018 |