Esther Leah Medalie Ritz
Civic Leader
A Notable Jewish Professional from the Greater Duluth-Superior Region


Esther Leah Medalie Ritz (1918-2003) was born in Buhl, Minnesota, the first child of Jeanette Florence (Lewis) Medalie (1895-1928) and Matthew Abram Medalie (1885-1968). She graduated from the University of Minnesota before attending Duke. She was the first female member of the editorial board of the Minnesota Daily, the first woman president of the Milwaukee Jewish Community Center and the Milwaukee Jewish Federation and supported numerous local, national, and international organizations and causes, ranging from Planned Parenthood to Middle East peace efforts.
A summary of information about Esther is shown in an obituary clipping below.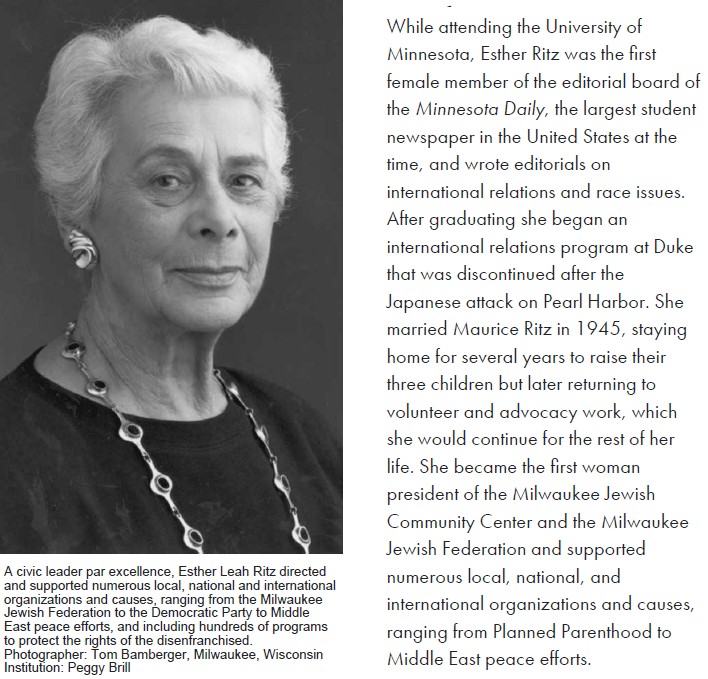 source: full article


Esther's obituary was also printed in The Wisconsin Jewish Chronicle; a pdf copy is also available here.
A pedigree chart for Esther identifying her ancestors is shown below:
| | | |
| --- | --- | --- |
| Created by: Allan@Garon.us | Feedback always welcome! | Page created July 2021 |